te Maisons Bois Production
d'abord logging is Specialized in solid wood construction projects and calibrated cylindrical wooden logs for self-build or build traditional houses of 100% wood.alors We use the best harvest our forest plantation north of Latvia near the Russian border in the area of ​​Aluksne.
Houses Wood Production
Production ict exports of wooden houses. d'abord In kits in more than 5 countries in Europe and North Africa (Tunisia and Morocco) We-have the capacity to Provide all sections of wood you can imagine:
solid planks from 120mm up to 400mm thick/maisons en fustes de bois /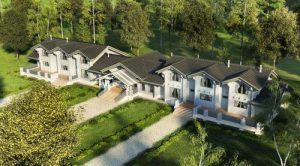 Glued laminated beams of 125mm up to 395mm, et160mm diameter from cylindrical log,et  Norwegian style fuste from 400mm to 18àmmx240mm
Mainly we work two kinds of wood: Pine and Larch The Scots
  option A: a house full year Delivered self build kit
Choix A  +: d'abord Complete kit Delivered and installed without carpentry without closing the frame
Sélection B: ensuite delivery and Installation Kit carpentry roof closed and raised
Opportunité B  +:  finalement par suite Kit comes with carpentry and roofing and insulation all Asked carpentry and doors closed in outside air out of water.
We recommend this option Because It offers the maximum Guarantees and above the minimum of intervention on the wood.
Option C: This option is reserved for our customers Who want supervision, other trades During The work of –other trades. This option HAS decennial Guarantees –other Individually trades.
This option is available for camping,et PRL, et  Holiday Village and Leisure.
The companyDelivers
a ten-year guarantee on the share trade de son: wood and Its mounting to the outside air out of water Even When the roof is steel tray
We provide deliveries to northern Europe for self-constructions and remains  donc Our most competitive field.This option Does not benefit from year guarantee Because The team qui originates Provides Guarantees icts.
 Our strength is our Most competitive prices,  our direct sales in Spain and Germany are Intended for professionals Wood constructions
We assure the quality, etTimeliness, et a price That Fits your budget.
Contact us for advice is already an advantage for you before you start.
 Enfin The wood frame building is not really our strength,
car We offer INSTEAD planks of solid gold to log cylindrical la même price terms/maisons en fustes de bois /